EVO DISK is meant to be on your side during the race. This model is the "ready to go" of the Inspyre Bicycles®. It gives everything to improve and perform in all riding technics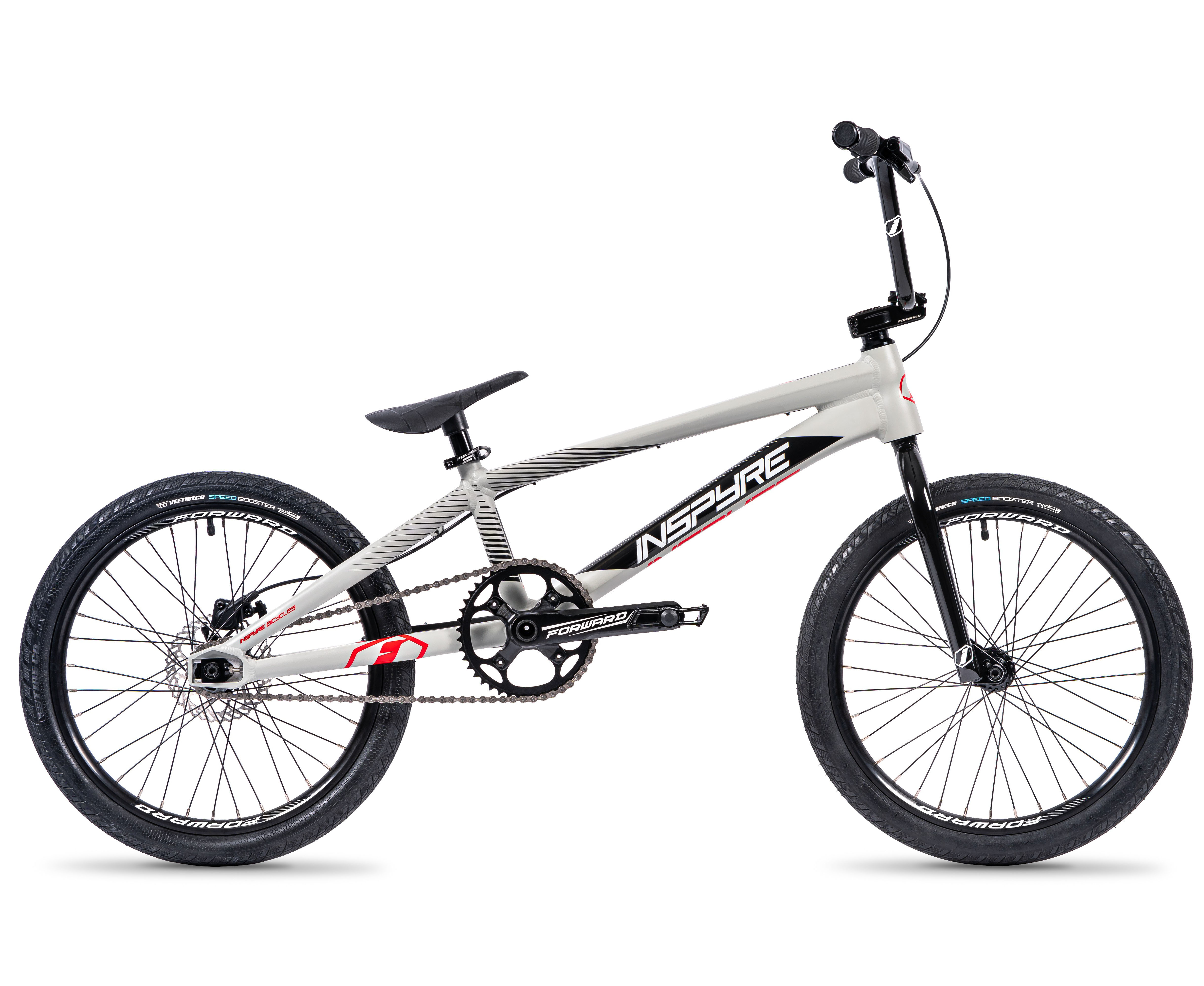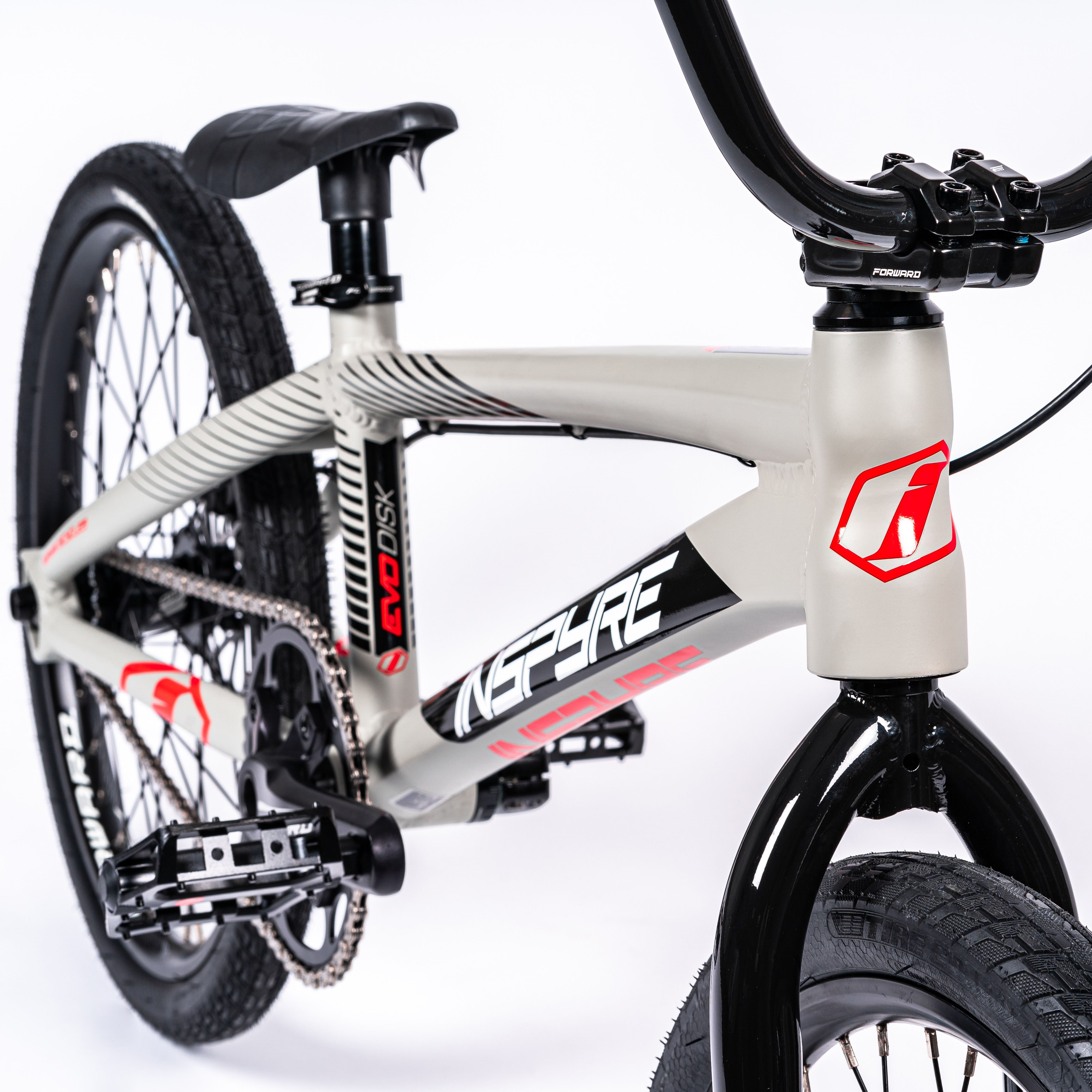 Fast & Efficient on track.
We decided an Aluminium Premium 6061-T6 for the frame. This achievement include the "Reactive Geometry" technology. His specific design gives a great stiffness and confort following the needs. Hydroformed tubes for a better power balance but also absorbing every little vibration on the track. We placed a Swell system that gives more stiffness at the back of the frame even tho compatible with disc brakes mounts. This frame resumes a balanced, fast and efficient riding. 
EVO-C DISK has been made like a custom built bike. Every single parts are sold as aftermarket and high brand components. There's also many FORWARD® parts that's been tested and approved by the Inspyre Bicycles Team. Very high technology on hubs with the JOYRIDE V2 by FORWARD® with 6 panels and pawls - 150 engagement points. Truely reactive wheels with goods speedbooster tires as VEE TIRE® can make the diffrence. On this 2023 version we decided to have a SHIMANO® MT-200 on disc brakes.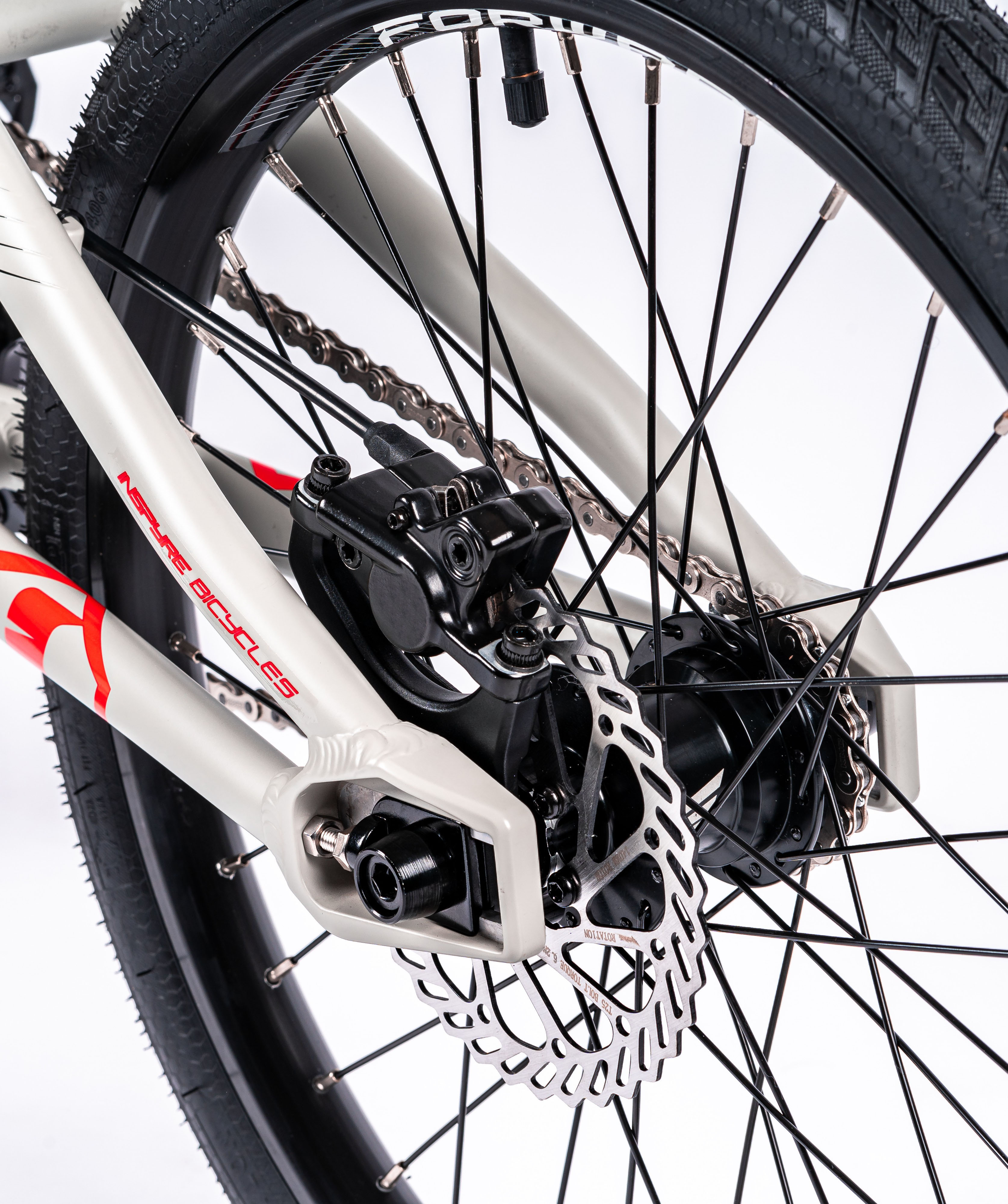 BMX INSPYRE EVO DISK 2023
There are not enough products in stock
The EVO Disk, designed to be "Race Ready" right out of the box, is still evolving with 2 new features !
The braking system has been upgraded. The EVO Disk range is now equipped with a Forward brake, offering high-end braking.
The Forward rear hub retains its 150 points, and 6 pawls engagement system. The aluminum hub body offers a new, bigger shape ! Visually, we are getting closer and closer to a very high-end hub.
IN DETAIL:
6061-T6 Aluminum frame - Hydroformed Tubes
Closed SWELL dropouts with tensioners
Tapered head tube from Expert XL
Forward Joyride AM 2 pieces external BB crankset
Forward hub 6 pawls 150 engagement points, new and larger hub body
Front hub female bolts and sealed bearings
Forward Joyride double wall rims
Shimano MT200
BOX Components combo seat
Vee Speedbooster tires
SPECS :
Bmx Inspyre Evo Disk Junior 2023

Bmx Inspyre Evo Disk Expert 2023

Bmx Inspyre Evo Disk Expert Xl 2023

Bmx Inspyre Evo Disk Pro 2023

Bmx Inspyre Evo Disk Pro Xl 2023

Bmx Inspyre Evo Disk Pro Xxl 2023

Bmx Inspyre Evo Disk Cruiser 2023

FRAME
Inspyre Evo Disk Junior - 18.75'' Premium Alu 6061-T6 - Hydroformed triple butted tubes - Swell Dropout Forged 3D
Inspyre Evo Disk Expert - 19.5'' Premium Alu 6061-T6 - Hydroformed triple butted tubes - Swell Dropout Forged 3D
Inspyre Evo Disk Expert XL - 20'' Premium Alu 6061-T6 - Hydroformed triple butted tubes - Swell Dropout Forged 3D
Inspyre Evo Disk - 20.75'' Premium Alu 6061-T6 - Hydroformed triple butted tubes - Swell Dropout Forged 3D
Inspyre Evo Disk - 21,25'' Premium Alu 6061-T6 - Hydroformed triple butted tubes - Swell Dropout Forged 3D
Inspyre Evo Disk - 21.85'' Premium Alu 6061-T6 - Hydroformed triple butted tubes - Swell Dropout Forged 3D
Inspyre Evo Disk - 21.85'' Premium Alu 6061-T6 - Hydroformed triple butted tubes - Swell Dropout Forged 3D
CHAIN
KMC Z-1 - 1/2'' x 3/32''
KMC Z-1 - 1/2'' x 3/32''
KMC Z-1 - 1/2'' x 3/32''
KMC Z-1 - 1/2'' x 3/32''
KMC Z-1 - 1/2'' x 3/32''
KMC Z-1 - 1/2'' x 3/32''
KMC Z-1 - 1/2'' x 3/32''
SPROCKET
Aluminium 4 Bolts 38T - BCD 110mm
Aluminium 4 Bolts 40T - BCD 110mm
Aluminium 4 Bolts 41 T - BCD 110mm
Aluminium 4 Bolts 42T - BCD 110mm
Aluminium 4 Bolts 43T - BCD 110mm
Aluminium 4 Bolts 44T - BCD 110mm
Aluminium 4 Bolts 41T - BCD 110mm
SEAT CLAMP
Forward AM 25.4mm
Forward AM 31.8mm
Forward AM 31.8mm
Forward AM 31.8mm
Forward AM 31.8mm
Forward AM 31.8mm
Forward AM 31.8mm
DISC
Forward Joyride AM 140mm
Forward Joyride AM 140mm
Forward Joyride AM 140mm
Forward Joyride AM 140mm
Forward Joyride AM 140mm
Forward Joyride AM 140mm
Forward Joyride AM 140mm
BRAKE CALIPER
Shimano MT200
Shimano MT200
Shimano MT200
Shimano MT200
Shimano MT200
Shimano MT200
Shimano MT200
FORK

Pride Slik 2.0 Carbon Torray® T700S x Torray® T800S - 1-1/8'' Steerer tube - tapered legs - 10mm & Inspyre Bicycles CrMo - 1-1/8'' Steerer tube - 10mm

Pride Slik 2.0 Carbon Torray® T700S x Torray® T800S - 1-1/8'' Steerer tube - tapered legs - 10mm & Inspyre Bicycles CrMo - 1-1/8'' Steerer tube - 10mm
Pride Slik 2.0 Carbon Torray® T700S x Torray® T800S  - 1-1/8'' | 1.5" Steerer tube - tapered legs - 10mm & Inspyre Bicycles CrMo - 1-1/8'' | 1.5" Steerer tube - 10mm
Pride Slik 2.0 Carbon Torray® T700S x Torray® T800S  - 1-1/8'' | 1.5" Steerer tube - tapered legs - 10mm & Inspyre Bicycles CrMo - 1-1/8'' | 1.5" Steerer tube - 10mm
Pride Slik 2.0 Carbon Torray® T700S x Torray® T800S  - 1-1/8'' | 1.5" Steerer tube - tapered legs - 10mm & Inspyre Bicycles CrMo - 1-1/8'' | 1.5" Steerer tube - 10mm
Pride Slik 2.0 Carbon Torray® T700S x Torray® T800S  - 1-1/8'' | 1.5" Steerer tube - tapered legs - 10mm & Inspyre Bicycles CrMo - 1-1/8'' | 1.5" Steerer tube - 10mm
Pride Slik 2.0 Carbon Torray® T700S x Torray® T800S  - 1-1/8'' | 1.5" Steerer tube - tapered legs - 10mm & Inspyre Bicycles CrMo - 1-1/8'' | 1.5" Steerer tube - 10mm
HANDLEBAR
Inspyre Evo - Aluminium 4.25'' x 22'' - BackSweep : 7° / UpSweep : 2°
Inspyre Evo - Aluminium 5.5'' x 26'' - BS : 7° / US : 2°
Inspyre Evo - 100% Crmo 6.5'' x 26'' - BS : 7° / US : 2°
Inspyre Evo - 100% Crmo 7.5'' x 26.7'' - BS : 7° / US : 1.5°
Inspyre Evo - 100% Crmo 8'' x 28.5'' - BS : 7° / US : 1.5°
Inspyre Evo - 100% Crmo 8'' x 27.5'' - BS : 7° / US : 1.5°
Inspyre Evo - 100% Crmo 5.5'' x 27.5'' - BS : 7° / US : 1.5°
FRONT RIM
Forward Joyride Aero - Aluminium 28H - Double walls
Forward Joyride - Aluminium 28H - Double walls
Forward Joyride Aero - Aluminium 36H - Double walls
Forward Joyride Aero - Aluminium 36H - Double walls
Forward Joyride Aero - Aluminium 36H - Double walls
Forward Joyride Aero - Aluminium 36H - Double walls
Forward Joyride Aero - Aluminium 36H - Double walls
REAR RIM
Forward Joyride Aero - Aluminium 28H - Double walls
Forward Joyride - Aluminium 28H - Double walls
Forward Joyride Aero - Aluminium 36H - Double walls
Forward Joyride Aero - Aluminium 36H - Double walls
Forward Joyride Aero - Aluminium 36H - Double walls
Forward Joyride Aero - Aluminium 36H - Double walls
Forward Joyride Aero - Aluminium 36H - Double walls
HEADSET
Semi Integrated - Sealed bearings - ZS44 | ZS44
Semi Integrated - Sealed bearings - ZS44 | ZS44
Semi Integrated - Sealed bearings - IS42.2 | IS52.2

Semi Integrated - Sealed bearings - IS42.2 | IS52.2

Semi Integrated - Sealed bearings - IS42.2 | IS52.2
Tapered Integrated - Sealed bearings - IS42.2 | IS52.2
Tapered Integrated - Sealed bearings - IS42.2 | IS52.2
BRAKE LEVER
Shimano MT200
Shimano MT200
Shimano MT200
Shimano MT200
Shimano MT200
Shimano MT200

Shimano MT200

REAR HUB
Forward Joyride V2 Disc - Aluminium body - 28H - 10mm - 100% Sealed bearing - Cassette 150 points of contact - 6 pawls system - Female axle - ISO 6
Forward Joyride V2 Disc - Aluminium body - 28H - 10mm - 100% Sealed bearing - Cassette 150 points of contact - 6 pawls system - Female axle - ISO 6
Forward Joyride V2 Disc - Aluminium body - 36H - 10mm - 100% Sealed bearing - Cassette 150 points of contact - 6 pawls system - Female axle - ISO 6

Forward Joyride V2 Disc - Aluminium body - 

36

H - 10mm - 100% Sealed bearing 

- Cassette 150 points of contact - 6 

pawls system

 

- Female axle - ISO 6

Forward Joyride V2 Disc - Aluminium body - 36H - 10mm - 100% Sealed bearing - Cassette 150 points of contact - 6 pawls system - Female axle - ISO 6
Forward Joyride V2 Disc - Aluminium body - 36H - 10mm - 100% Sealed bearing - Cassette 150 points of contact - 6 pawls system - Visseries Female axle - ISO 6
Forward Joyride V2 Disc - Aluminium body - 36H - 10mm - 100% Sealed bearing - Cassette 150 points of contact - 6 pawls system - Visseries Female axle - ISO 6
FRONT HUB
Forward Joyride V2 - Aluminium body - 28H - 10mm - 100% sealed bearing - Female axle
Forward Joyride V2 - Aluminium body - 28H - 10mm - 100% sealed bearing - Female axle
Forward Joyride V2 - Aluminium body - 36H - 10mm - 100% sealed bearing - Female axle
Forward Joyride V2 - Aluminium body - 36H - 10mm - 100% sealed bearing - Female axle
Forward Joyride V2 - Aluminium body - 36H - 10mm - 100% sealed bearing - Female axle

Forward Joyride V2 - Aluminium body - 36H - 10mm - 100% sealed bearing - Female axle

Forward Joyride V2 - Aluminium body - 36H - 10mm - 100% sealed bearing - Female axle
PEDALS
Alu Mini 9/16
Alu 9/16
Alu 9/16
Alu 9/16
Alu 9/16
Alu 9/16
Alu 9/16
CRANKSET
Forward Joyride AM 2pcs - 4 Bolts - 150mm

Forward Joyride AM 2

pc

s - 4 

Bolts

 - 160mm

Forward Joyride AM 2pcs - 4 Bolts - 170mm

Forward Joyride AM 2

pc

s - 4 

Bolts

 - 150mm

Forward Joyride AM 2pcs - 4 Bolts - 175mm
Forward Joyride AM 2pcs - 4 Bolts - 180mm
Forward Joyride AM 2pcs - 4 Bolts -175mm
COG
16T Crmo
16T Crmo
16T Crmo
16T Crmo
16T Crmo
16T Crmo
18T Crmo
TIRES
Vee Tire Speedbooster 20 x 1-3/8 (AV) Vee Tire Speedbooster 20 x 1-3/8 (AR)
Vee Tire Speedbooster 20 x 1-3/8 (AV) Vee Tire Speedbooster 20 x 1-3/8 (AR)
Vee Tire Speedbooster 20 x 1.40 (AV). Vee Tire Speedbooster 20 x 1.40 (AR)
Vee Tire Speedbooster 20 x 1.75 (AV) Vee Tire Speedbooster 20 x 1.60 (AR)
Vee Tire Speedbooster 20 x 1.75 (AV) Vee Tire Speedbooster 20 x 1.75 (AR)
Vee Tire Speedbooster 20 x 1.75 (AV) Vee Tire Speedbooster 20 x 1.75 (AR)
Vee Tire Speedbooster 24 x 1.75 (AV) Vee Tire Speedbooster 24 x 1.60 (AR)
GRIPS
Forward Lock On 95mm - Krayton
Forward Lock On 130mm - Kraton
Forward Lock On 130mm - Kraton
Forward Lock On 130mm - Kraton
Forward Lock On 130mm - Kraton
Forward Lock On 130mm - Kraton
Forward Lock On 130mm - Kraton
STEM
Forward - Top Load - Aluminium 6061-T6 - 40mm
Forward - Top Load - Aluminium 6061-T6 - 40mm
Forward - Top Load - Aluminium 6061-T6 - 50mm
Forward - Top Load - Aluminium 6061-T6 - 50mm
Forward - Top Load - Aluminium 6061-T6 - 50mm
Forward - Top Load - Aluminium 6061-T6 - 50mm
Forward - Top Load - Aluminium 6061-T6 - 50mm
SPOKES
Stainless 14G
Stainless 14G
Stainless 14G
Stainless 14G
Stainless 14G
Stainless 14G
Stainless 14G
SEAT
Combo 22.2mm
Combo 27.2mm
Combo 27.2mm
Combo 27.2mm
Combo 27.2mm
Combo 27.2mm
Combo 27.2mm
CHAIN TENSIONERS
Swell integrated
Swell integrated
Swell integrated
Swell integrated
Swell integrated
Swell integrated
Swell integrated
HEAD SPOKES
Laiton 14G
Brass 14G
Brass 14G
Brass 14G
Brass 14G
Brass 14G
Brass 14g
BOTTOM BRACKET
External BSA - EB24 sealed bearings
External BSA - EB24 sealed bearings
External BSA - EB24 sealed bearings
External BSA - EB24 sealed bearings
External BSA - EB24 sealed bearings
External BSA - EB24 sealed bearings
External BSA - EB24 sealed bearings
RIDING LEVEL
Confirmed
Confirmed
Confirmed
Confirmed
Confirmed
Confirmed
Confirmed
RIDER SIZE
1m35 to 1m45
1m40 to 1m55
1m50 to 1m65
1m55 to 1m70
1m70 to 1m80
>1m80
1m70 to 1m80
BIKE SIZE
Junior
Expert
Expert XL
Pro
Pro XL
Pro XXL
Cruiser Pro