The Concorde V2 is made for one thing : The Race.
It gives all the performences you need during the race.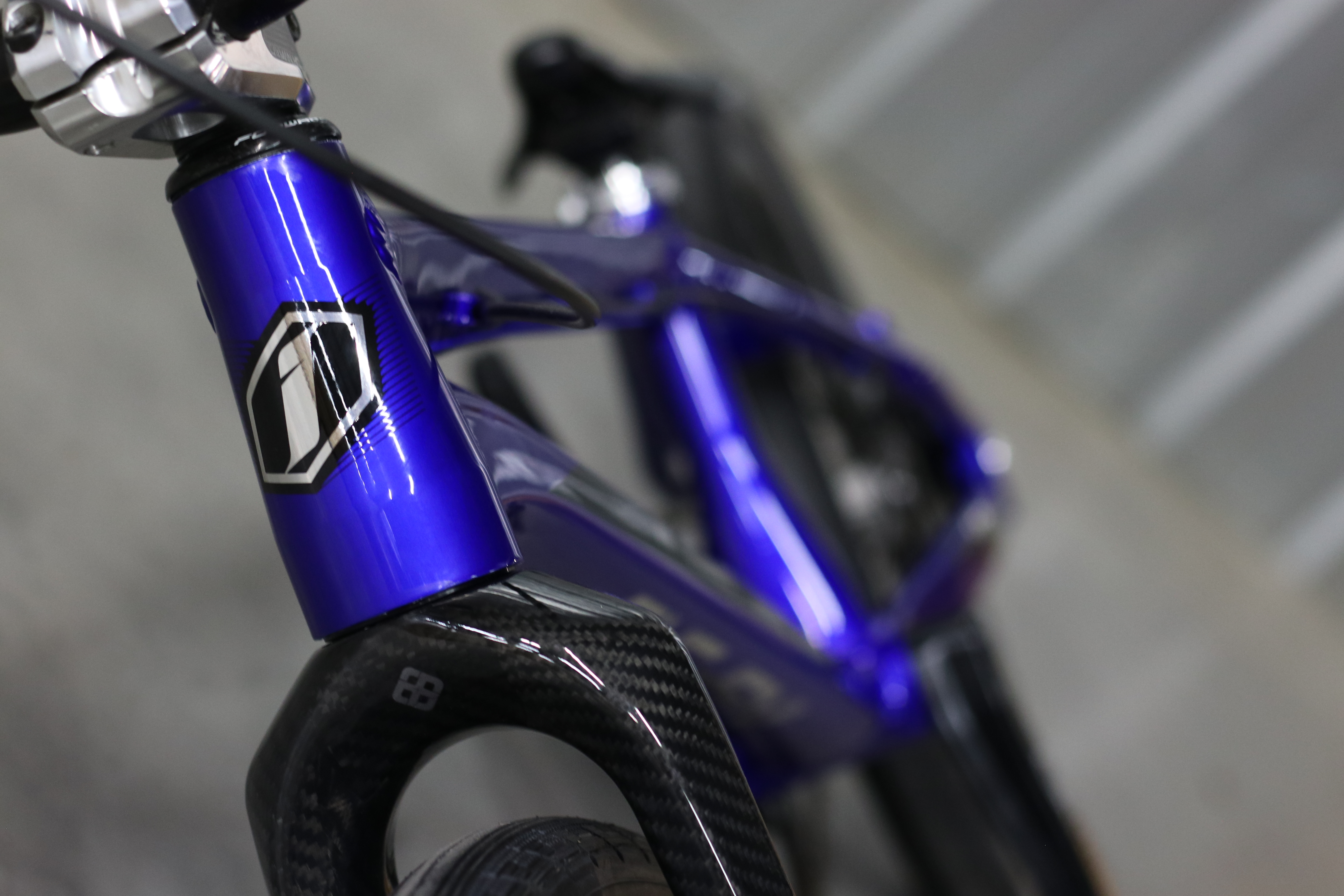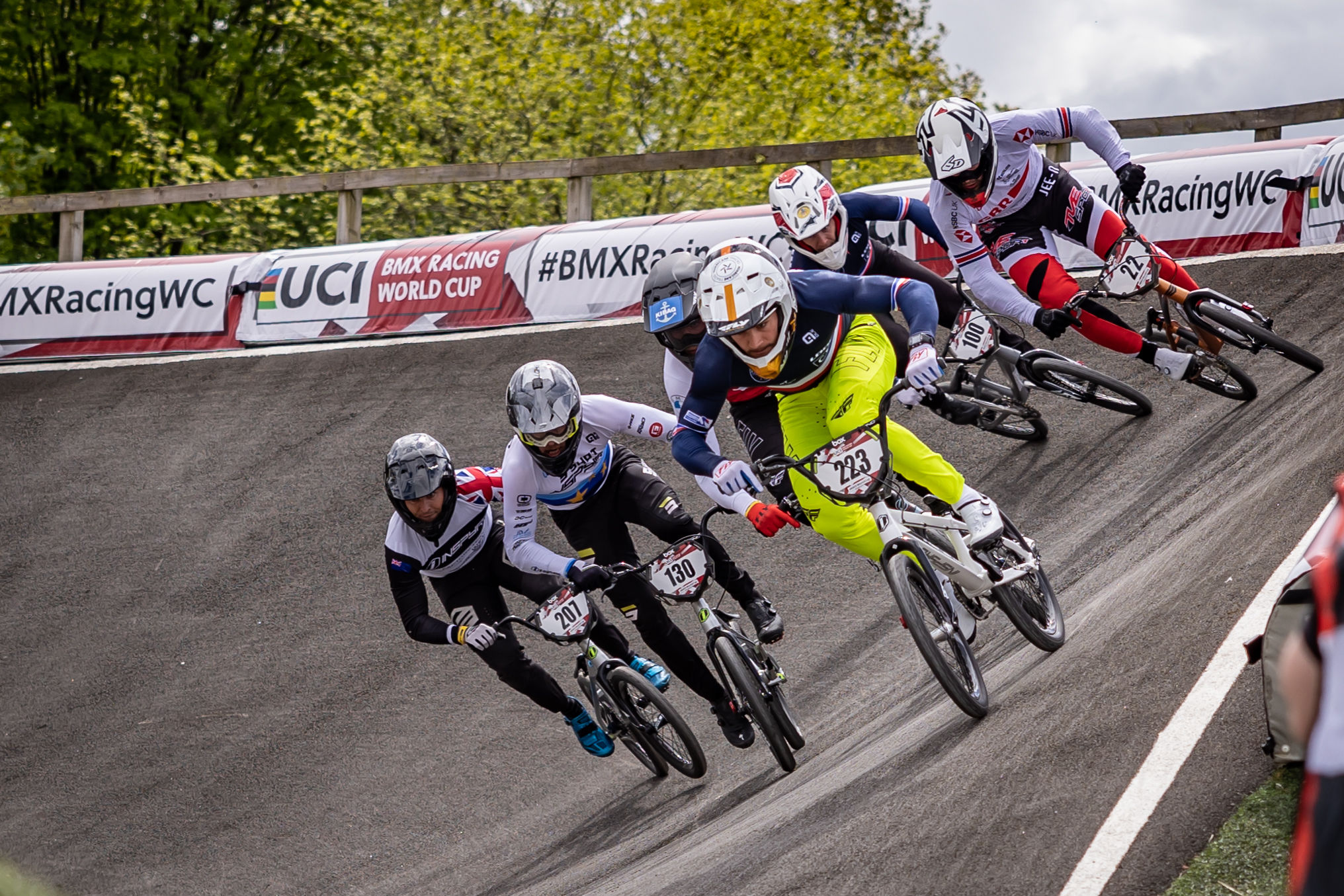 For all the greatest Races of the world.
Jérémy RENCUREL, Arthur PILARD, Léa BRINDJONC, Michael BIAS, Zian LEMEE, Clément ROCHERIEUX - Top riders in BMX Race, they chose to ride every race and world competition with the CONCORDE V2.
Built with an 6061-T6 Aluminium, the frame is a real Race frame. Really energic and a big responsivity. Only made to keep pushing. 
Stable and agressif behavior.
On that Concorde V2 frame, we've been working on stiffness and be stable at high speed. We added wider tubes on strategics points. That Concorde V2 is built with an Aluminium high brand (6061-T6 triple butted). During working on tubes, We managed to have a really strong and stiff frame. The aluminium is perfect for BMX Race because it saves your riding of every single holes and unperfectional tracks. Precision and speed you get once you're on!
Contact points between the tubes are optimized and gives better and reliable weldings. The conception is made for keeping every charges or energies during power transfer.
This frame has a BB86 box on buttom bracket, this standard is big and stiff enough to see Jeremy RENCUREL win a UCI World Cup at Glasgow in 2022.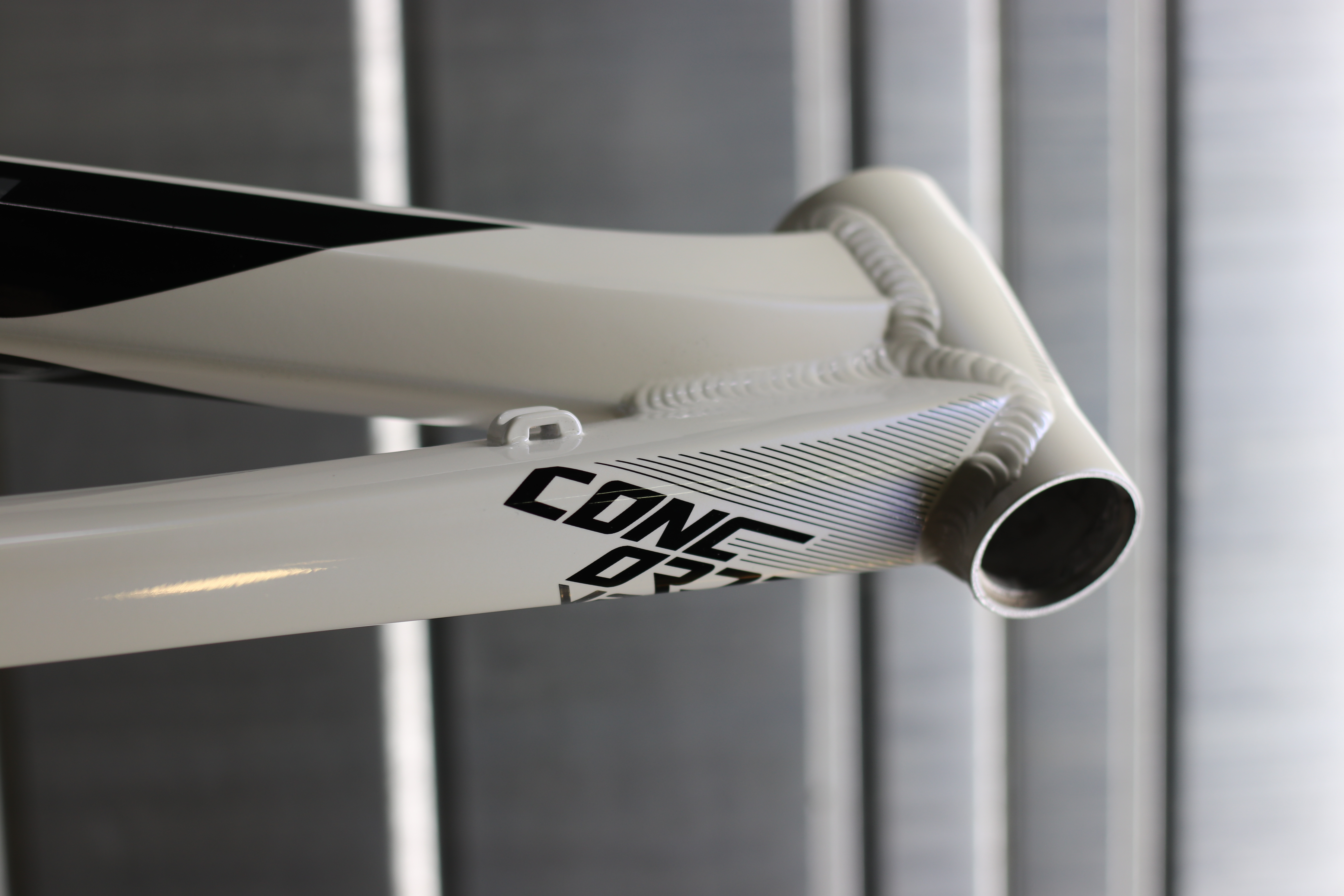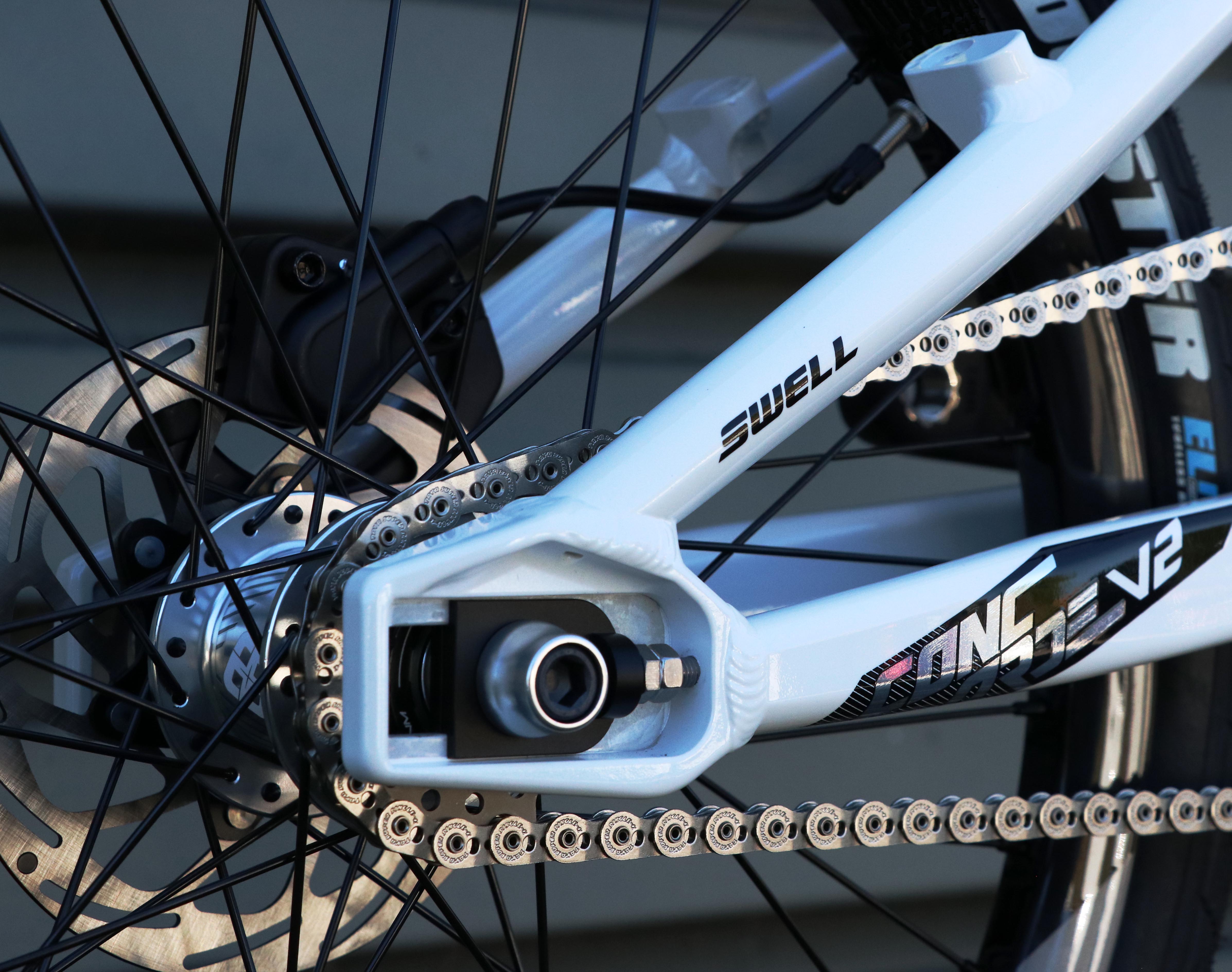 A stable and aggressive nature.
The frame adopts a new geometry, the DNA of the first generation of Concorde is still present but its geometry has been slightly revised offering even more maneuverability and responsiveness in the riding.
On the Concorde V2 we have integrated the Swell rear lug. A closed rear bracket developed here in-house since 2017. It offers a 25mm adjustment range. This allows you to adjust the geometry of the frame to your riding style and the mapping of the track. The Swell dropout is 25% stiffer than the dropouts found on the first generation of Concorde frames. Its shape allows you to weld the seatstays to the top of the dropout and thus provide even more rigidity.

Inspyre Concorde v2 Frame
There are not enough products in stock
The Concorde V2 adopted a new geometry, the DNA of the Concorde is still present but its geometry has been slightly revisited offering even more handling and reactivity in the riding feeling.
Inspyre would like something «really » disc brake ready that's why the brand has decided to close up the dropout in order to avoid any bending issues due to disc brake power. This new dropout is 25% stiffer than our previous version in addition and thanks to the brand-new shape we can welding seat stays above and provide more strength. On the track you really feel the difference. With no V-Brake mounts you have no adjustment limit, SWELL dropouts offering 25mm adjustment so if you like to ride with long chain stays adjustment now you can.
Works with 50t chainring and 18t cog. No more chain sucks even in 50t wider seat stays and offer now more clearance and additional stiffness.
On the kids and cruiser models the tubes have been adapted to the needs and to the morphology of the riders. Offering a lighter frame in the Expert, Expert XL versions and a stiffened frame at the bottom bracket for the lengths of the tubes in the Cruiser versions.
DISC version incompatible with V-brakes.
Inspyre strongly advises against washing its products with a high-pressure jet.
Inspyre declines all responsibility in the event of torsion or breakage of the rear bases in the event of the Pride Racing V4 dropout not being used.
Delivered with Inspyre axle tensioner kit 10mm and Pride Racing V4 disc dropout.
Assembly tips : 
Bottom bracket : 
Headset : 
Seat clamp : 
Disc mount : 
GEOMETRY & COMPATIBILITY :
FRAME
SIZE
RIDER AREA
TOP TUBE
CHAINSTAYS (MIN)
CHAINSTAYS (MAX)
HEAD
SEAT ANGLE
BB HEIGHT
mm
Inches
mm
Inches
mm
Inches
mm
Inches
EXPERT
545,6
19.50
495.3
13.29
337.5
14.27
362.5
73°
71°
11"
EXPERT XL
558,9
20.15
511.8
13.29
337.5
14.27
362.5
73°
71°
11"
PRO
562,6
20.65
525
14.17
360
15.16
385
74°
72°
11.5"
PRO XL
575
21.25
540
14.37
365
15.35
390
74°
72°
11.5"
PRO XXL
585
21.75
552
14.69
373
15.67
398
74°
72°
11.5"
PRO XXXL
595,9
22.25
565
15.31
389
16.30
414
74°
72°
11.5"
CRUISER
617,4
21.85
555
14.96
380
15.94
405
73.5°
70°
11.9"
FRAME
SIZE
SEAT TUBE
DIAMETER
SEAT CLAMP
DIAMETER
BOTTOM BRACKET
STYLE
HEADTUBE
SHIS
EXPERT
22.2mm
28.6mm
Euro BSA - 1.375'' BC 24T - 68MM
Integrated 1''-1/8 - 110mm
IS42 | IS42
EXPERT XL
PRO
27.2mm
31.8mm
PRESS FIT BB86
Integrated Tapered - 115mm
IS42 | IS52
PRO XL
PRO XXL
PRO XXXL
CRUISER
FRAME
SIZE
SPROCKET
(MAX)
TIRE SIZE
(MAX)
CHAIN TENSIONERS
DISC BRAKE
READY
REAR AXLE
COMPATIBLE
EXPERT
44T
20 x 1-3/8
Integrated
YES - For 140mm rotor only
10mm / 15mm / 20mm
EXPERT XL
PRO
50T
20 x 1,85
PRO XL
PRO XXL
PRO XXXL
CRUISER
42T
24 x 1,75
MATERIAL

ALUMINIUM

TOPTUBE SIZE

Cruiser
Pro XXL
new
new
new
new
new